Open concept kitchen design is very popular in home construction and renovation, but it is not just a modern design fad to obtain a pleasing aesthetic; it is at its heart functional, meant to meet the physical and emotional needs of the whole family. Aside from the positive response to a new and beautiful space, a good kitchen design must also meet a variety of realistic functions.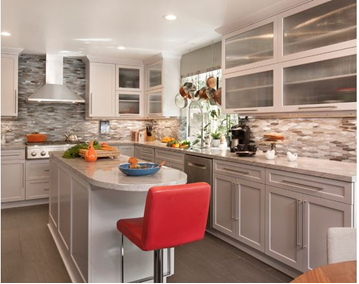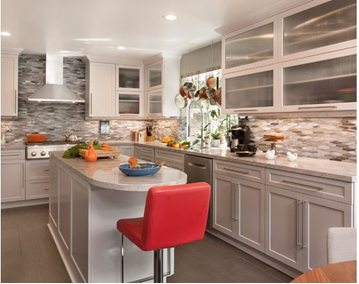 New Generation Improvements | Woodland Hills Kitchen
The basic building blocks and purpose of any kitchen is the storing of food, appliances, and to provide a cooking and eating space.  In terms of modern family life, the open concept kitchen provides flow between all living areas of the home for just that… living. The kitchen becomes: homework central, the cooking lesson spot, the boo-boo repair station, eating-over-the-counter-on-the-way-to-soccer-practice place, and the late night ice cream eating alone-time room.  A room for real life.
Although any new open concept kitchen design is built to each families' specifications and needs, if you are considering renovating your space here are some great features to think about while putting together your dream wish list.
1. REMOVE THOSE WALLS
The purpose of open concept is to provide good flow between the living areas, whether that is for better entertaining or simply for keeping an eye on your kids. These are busy times for the modern world, so as much togetherness as possible is a top priority! And trust us once your kids see the new beverage fridge full of good treats, a convection oven that makes food in flash, and new speakers with great tunes, we are sure the kids will want to hang out in the kitchen too.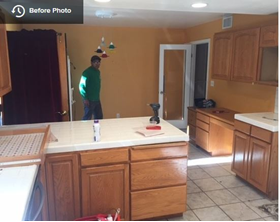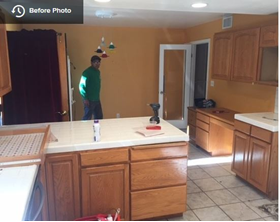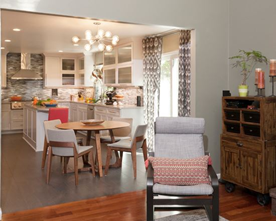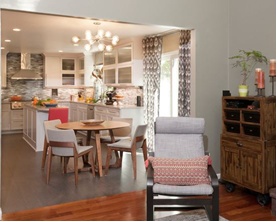 Woodland Hills Kitchen | Removed wall separating living room from kitchen to create open floor concept.
2. NO CLUTTER
For a true modern or contemporary open kitchen design you must integrate features which allow you ample storage and less clutter on your countertops. Consider custom cabinetry with a special "garage door" feature, or parallel lift-up door, which allows for appliance storage, while maintaining a clean and sharp look.  See example below. Make your cabinets work double-time by installing USB charging stations, portable device docking systems underneath the cabinets so that those ugly outlets won't interfere with the beauty of your backsplash.Supreme functionality meets gorgeous design.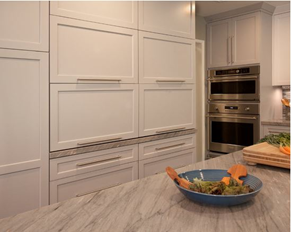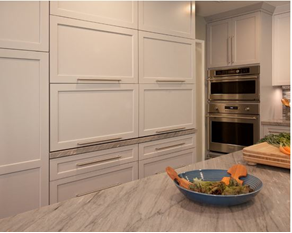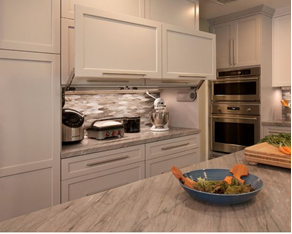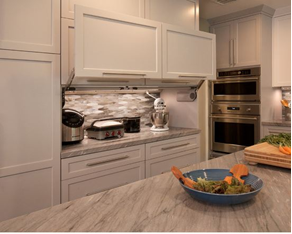 Woodland Hills Kitchen | Custom cabinetry with "Garage Door" style feature for hideaway appliance storage.
 3. TECHNOLOGY
Give your kitchen an IQ that would make Einstein envious! In addition to your "smart" cabinets think about including a smart refrigerator, a hands-free faucet, or even a wall-mounted iPad right by the stove to provide easy access to digital recipes. Like listening to music while you cook, or need a night-light when getting a midnight snack? Consider installing an under cabinet lighting system with speakers.What cook would not want Pinterest or AllRecipes.com right at their fingertips, tunes flowing in the air, while cooking up a storm? This is all possible with modern integrated design.  At the end of a long day at work a smart kitchen will make you smile.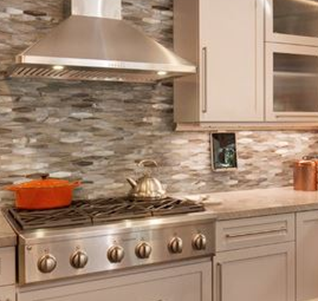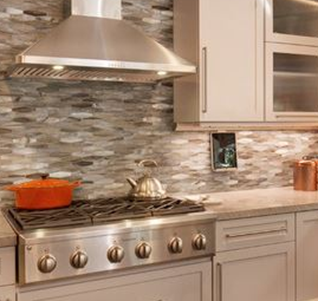 Woodland Hills Kitchen | iPad installed on backsplash to the right of the stove.
4. LUXE DETAILS
If you like a touch of class and modern edge, but don't want a simple white subway tile think about a neutral yet decorative backsplash like the Vihara E-Hex stone shown in the project above.  Including specialtycountertops can truly provide an added sense of luxury to your open concept kitchen. The Quartzite countertops pictured below provided flawless function and unparalleled beauty to this modern and contemporary kitchen design.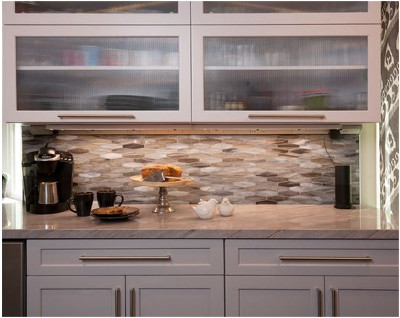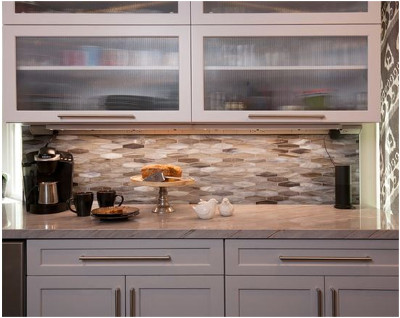 You conceptualize, we create, and your family will enjoy.
Looking for a consultation for your kitchen project? Contact us, Your Expert Builders, Professional Renovation Partners, today!
Credits: Interior Design completed by Jana Interiors