One of our favorite projects to date has been a garage conversion we recently completed in the very up and coming Frog Town area of Los Angeles. There are no limits to what a homeowner can envision and in turn transform a space from a dumping ground for storage to a jaw dropping beautiful space!
When homeowner, designer, influencer, and author Justina Blakeney and her husband Jason reached out to partner with us, we knew this would be a very special project- to make an entertainment space with a kitchenette in a relaxed, Mediterranean type of design. Jason and Justina were interested in creating a space on their property where they could entertain, spend lazy Sunday afternoons reading, and create some desirable functionality on the property. This involved completely transforming a 250 s/f garage that was being used more for storage than for parking cars.
Let's break down the project into two main areas: the kitchenette with a window that opens up to the patio outside, and the sitting area.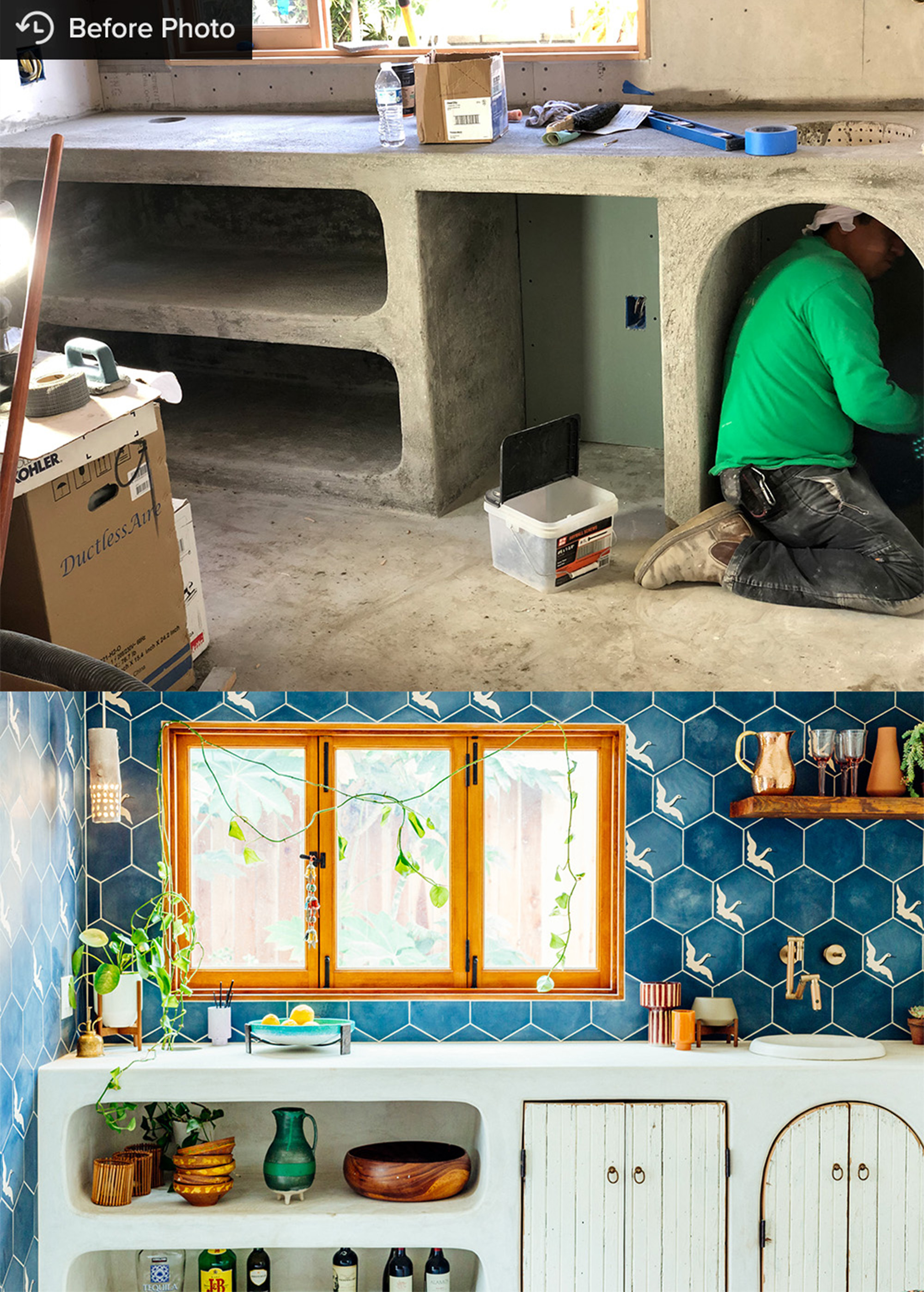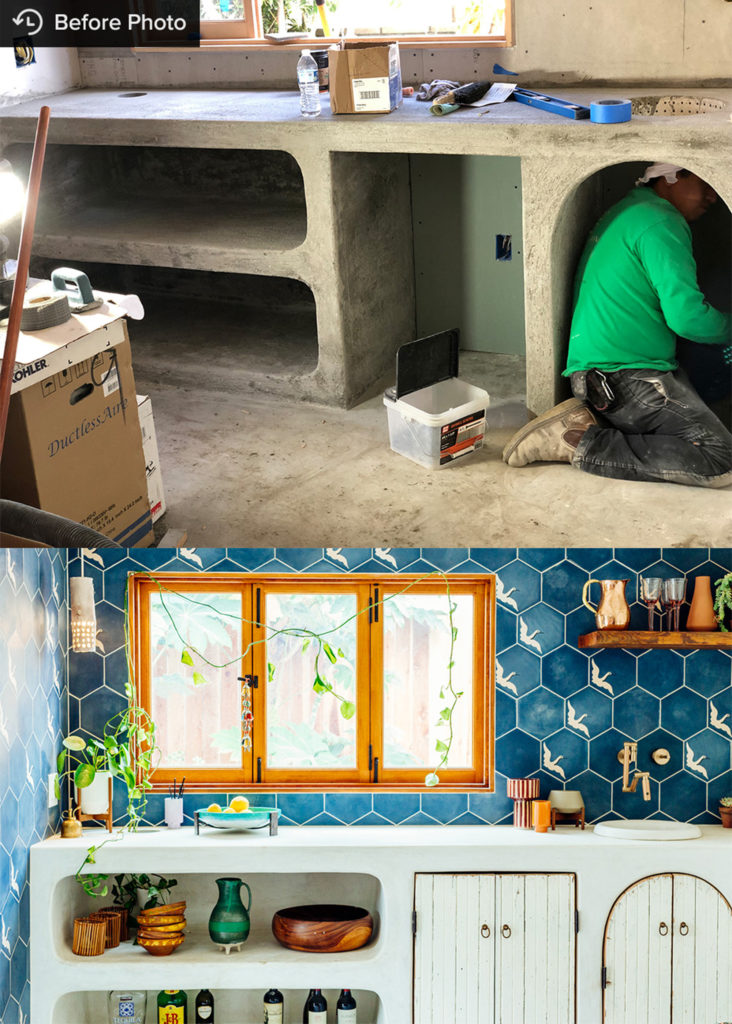 Kitchenette and Laundry Area
After adding new framing to the entire garage, we proceeded to add a wall to divide the area from the bar and laundry space on one wall of the room. We enclosed the laundry space with plantation doors painted a pretty serene blue. The counter tops were custom made with a mixture of concrete and smooth stucco for an organic feel. The process of getting the counters perfect was delicate but the end result is stunning. The edges of the shelves and cabinets are curved making for a unique design.
The beautiful blue tile designed by Justina Blakeney and custom made by Granada Tile features delicate Egret birds. The tile was then applied to the back wall and left side wall up to the ceiling. The two cabinets doors you see under the sink were fabricated from the original wood garage door. We  collected some of the wood strips from the original garage door, and put them together against new wood to make two doors, providing a rustic feel to the space.  A tri-fold window was added large enough to let plenty of light in and connect the inside to the patio outside. Perfect for passing around mojitos!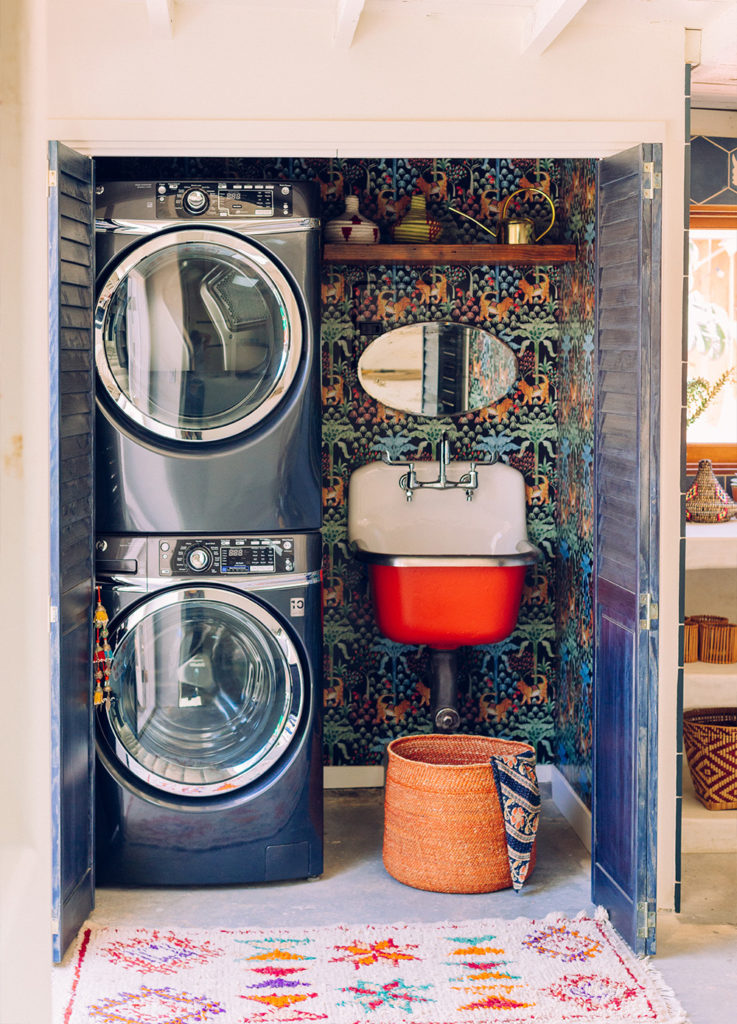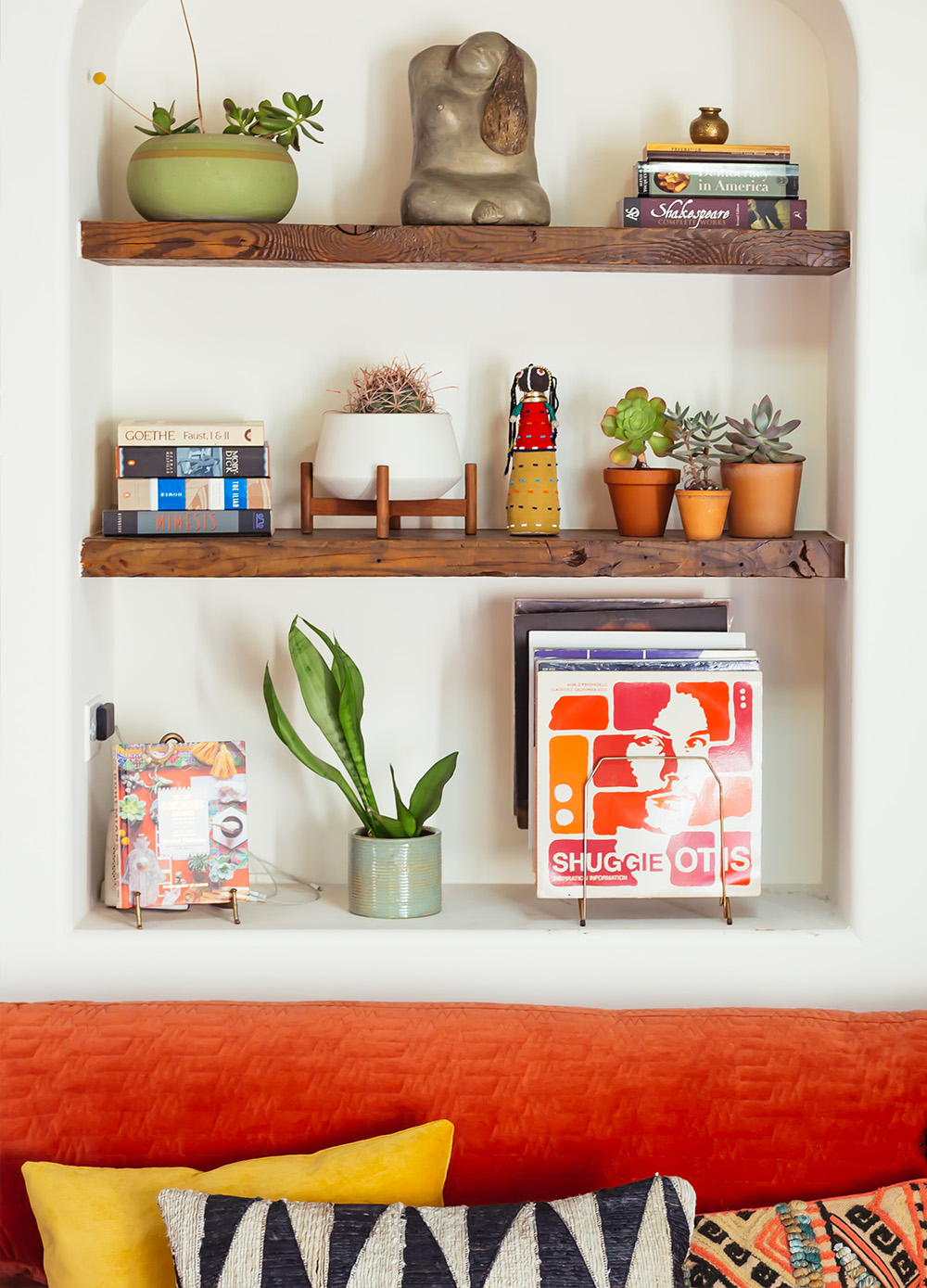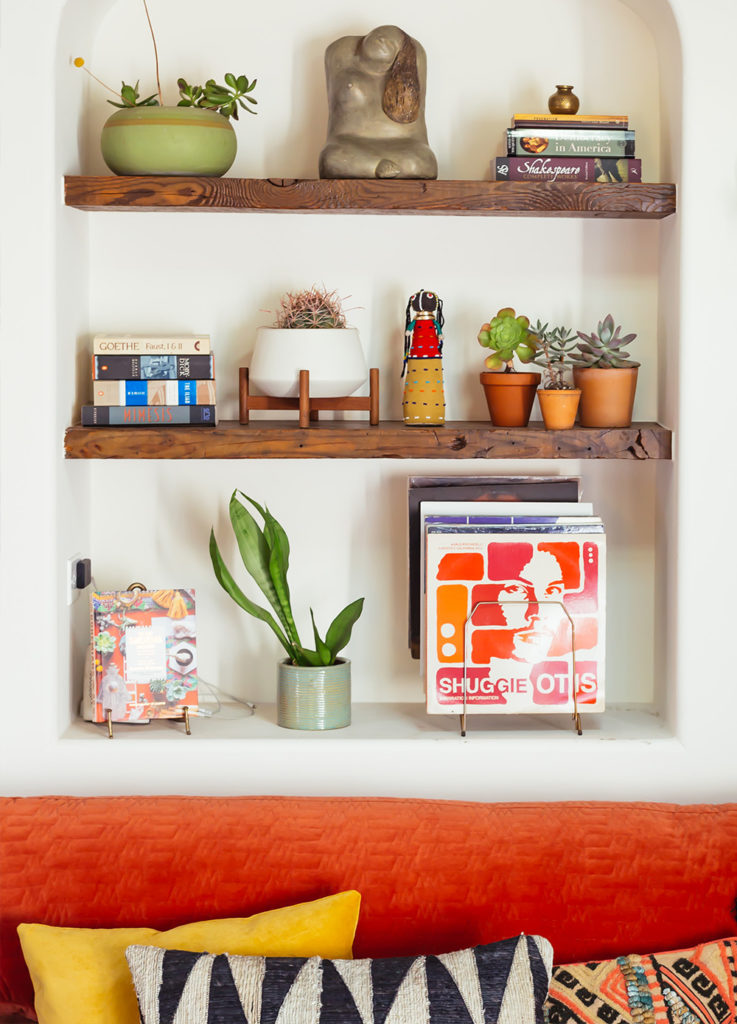 Living Room Area
For the living room area we made 4 recessed display areas to house various items the homeowners have collected in their travels over the years, as well as a plethora of plants. We again made the alcoves with rounded corners to keep in theme with the Mediterranean vibe. We cut, stained, and applied wood shelves into the alcoves. Small recessed lights were installed to make sure the areas are highlighted.  A skylight was also added into the ceiling to invite more natural sunlight to the space. The space is finished off with the addition of the most inviting (and brilliantly colored) sectionals we ever did see! Someone pass us a book and a Mojito to lounge all day in this space.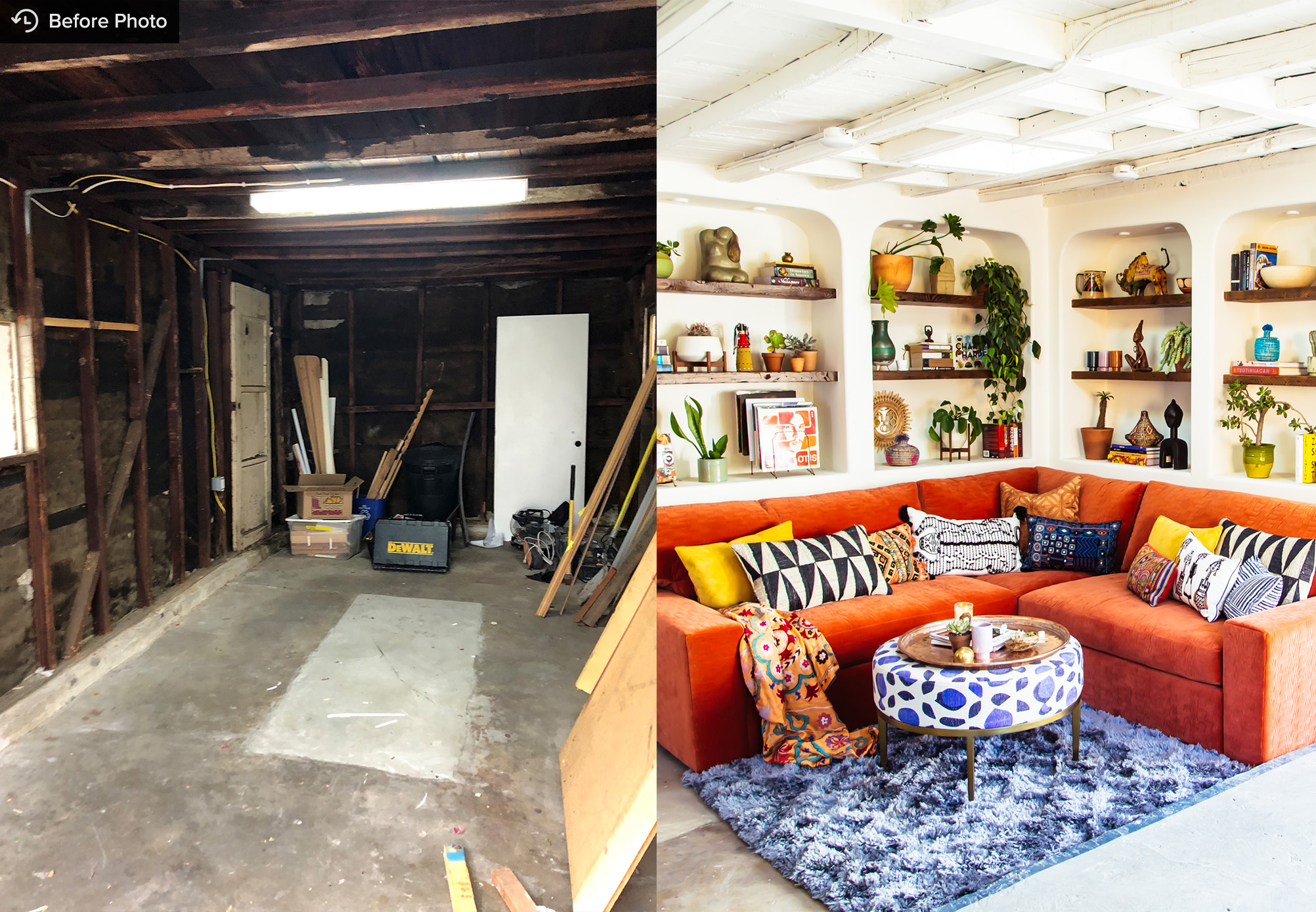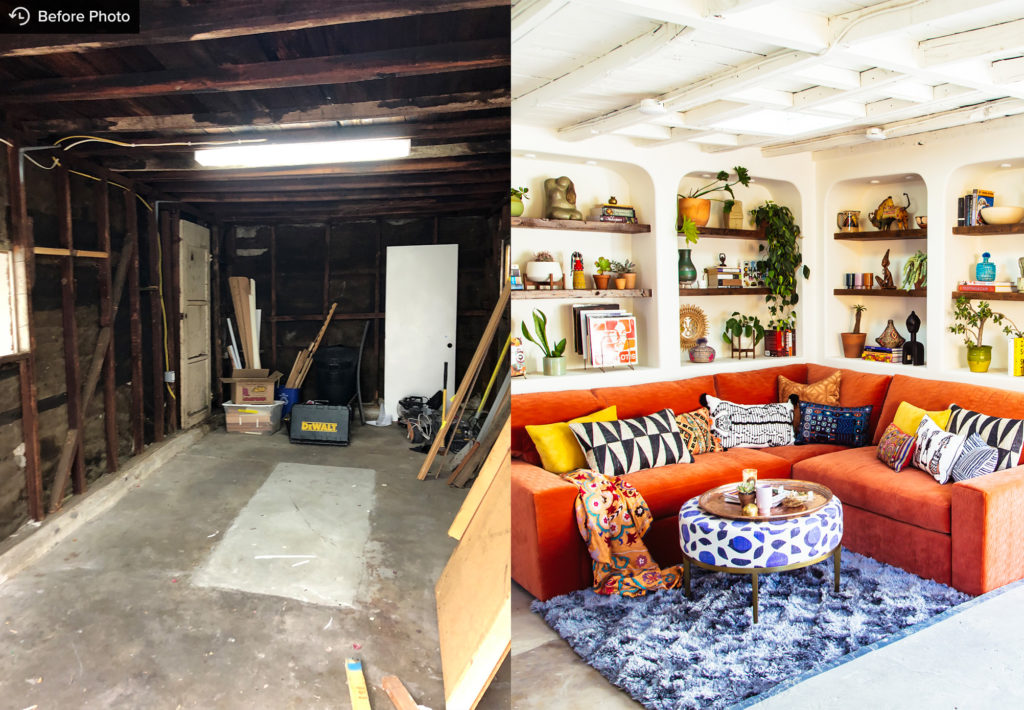 There are MANY ways to convert a garage. It can be made into a rental space with basic finishes, or a home office, a space for when guests stay, or just an extra entertainment space where you and your family can relax and unwind. In this case, the homeowners opted for an entertainment space they can use daily and boy did they do it right!
New Generation Improvements can help you design your ADU too; whether you want a mid-century modern vibe or a beachy vibe, we can help bring your vision to life!
For more pictures of this space go to www.newgenerationimprovements.com/portfolio-items or check out our videos too on our Instagram @newgenerationimprovements
—-
Design by Justina Blakeney